Knock Knock Knock !!!
It was finally here, the moment we'd all been waiting for. Poddo's very 1st physical gathering.
What a difference 18 months made with the Covid 19 pandemic and lockdowns. Finally, our club members met up on 8th January 2022 and it was the very 1st meeting for all poddas. what a better way to celebrate the freshness of 2022.
Where's the meeting? What'll be happening? Who'll be there?
Yes, we had that super excitement. But after entering through purplish decors and hearing those familiar voices saying "Hi poddo welcome" all our nervousness went away. We had only seen them virtually so it was just good to see them, to smile with them and to talk with them.
Our meeting started. It wasn't a Good evening but a very Good morning. Our Madam President commenced the meeting and welcomed us wholeheartedly. She was grateful for her members, who have continued to pull together in thoughtful ways to break the fear of public speaking . Then it was time to listen to Sameera sir's motivational words. Past two years have been rocky for almost everyone, but he has loved seeing the club grow step by step. Indeed a proud moment for all the Gaveliers. At the Round Robin session we talked about our phobias and it was funny how Sanjeeda's spider key tag matched with Devindu's phobia and how RR session ended with our Madam President's "ghost in that room".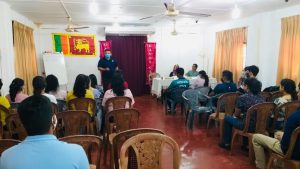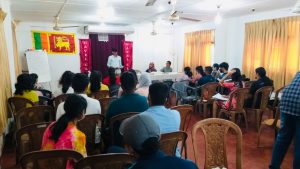 "Shall we all turn on our cameras and say cheese??" Wait Wait! This is not our usual virtual meeting. We move ahead with our brave and talented Table Topic speakers.
After the official proceedings here comes the best part. Shall we design a backdrop for our photo? Simple as this. We painted our palms with colors and created a colorful backdrop. Captured beautiful clicks with our gavel gang and why not for a video – 1..2..3.. Divided we fall United we stand J'pura Gavel. "Charades" added more fun and we could witness how talented our gaveliers are not only with public speaking but also with acting and guessing.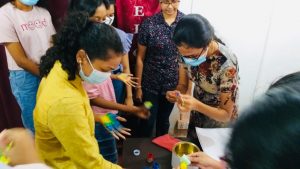 Did I mishear about lunch treat? Noooo. Our akkis and aiyas planned to go for lunch and our happiness got doubled. We had a yummy diet along with our all time favorite 'Never have I ever '.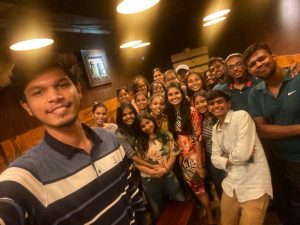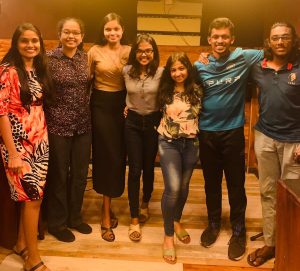 It was time to say good bye with the hope of having another physical meeting also with the ones who couldn't join with us today. However, just being together in person discussing anything and everything was a great reward.